The Finnish metal band Amberian Dawn will release their next studio album, named "Innuendo", this autumn, and today they shared its cover artwork and track list. On "Innuendo" you'll find 10 new songs composed by the band's mastermind Tuomas Seppälä, plus 2 bonus tracks: an instrumental version of "Fame & Gloria" and a re-making of the song "Sunrise".
The new album will be released worldwide via Napalm Records on 23rd of October 2015 and can be pre-ordered here (EU & the rest of the world) and here (USA).
Tuomas Seppälä comments on the upcoming album: [gdlr_quote align="center" ]One of the most melodic and vocal-driven album in AD's history is now on making. I've composed these songs in a little bit different way than I've used to do before. I have worked with these songs without any limitations. Some of the elements I've used have been quite unusual in heavy metal genre and there's going to be a fresh new sound for AD. Musically these songs are still very much influenced by classical music but also by electro-composers like Jean Michel Jarre and Vangelis for example. Our new vocalist Capri was able to bring tons of emotions with her sound and lyric writing and I'm sure that this album will be our best so far.[/gdlr_quote]
The cover artwork was created by Jan "Örkki" Yrlund (Korpiklaani, Leah, Imperia) and you can see it below.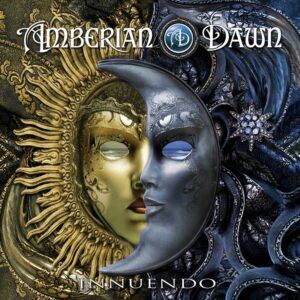 "Innuendo" tracklist:
Fame & Gloria
Ladyhawk
Innuendo
The Court Of Mirror Hall
Angelique
Rise Of The Evil
Chamber Of Dreadful Dreams
Knock Knock Who's There
Symphony Nr 1, Part 1 – The Witchcraft
Your Time – My Time
Fame & Gloria (Instrumental Version) (Bonus Track)
Sunrise (Re-Recording) (Bonus Track)
Amberian Down will be touring with Delain and Anneke van Giersbergen – The Gentle Storm in October and November this year, so don't miss the chance to see them live. Here is the list of their live shows:
27.10.15 CH – Solothurn / Kopfmehl
28.10.15 FR – Strasbourg / La Laiterie
29.10.15 FR – Paris / Divan Du Monde
30.10.15 BE – Vosselaar / Biebob
31.10.15 DE – Andernach / Juz Live Club
02.11.15 DE – Munich / Backstage Halle
03.11.15 IT – Milan / Live Club
04.11.15 AT – Graz / Explosiv
05.11.15 HU – Budapest / Club 202
06.11.15 SK – Bratislava / Randal Club
07.11.15 PL – Warsaw / Club Progresia
08.11.15 DE – Berlin / K17