The new Amorphis album Under The Red Cloud, coming out on 4th of September 2015 via Nuclear Blast, is one of the most anticipated releases of the year, and the band has just shared the lyric video of the first single "Death Of A King". This song features the guest appearances of Chrigel Glanzmann (Eluveitie, flute) and Martin Lopez (ex-Opeth, percussion). Enjoy the song and the video, and share with us your opinions about it, we will include them in the next Synapse episode.
[gdlr_video url="https://www.youtube.com/watch?v=_ql4Xe6MxQ4″ ]
Guitarist and founding member Esa Holopainen comments: [gdlr_quote align="center" ]It was a great honor to have such talented musicians appearing on 'Death Of A King'. Each one of them puts his personality and character in the very right spot.[/gdlr_quote]
The digital single "Death of A King" can be purchased on iTunes, NBMP3, AmazonMP3, and GooglePlay. Below you can see the stunning cover artwork of the single, which was created by Valnoir Mortasonge.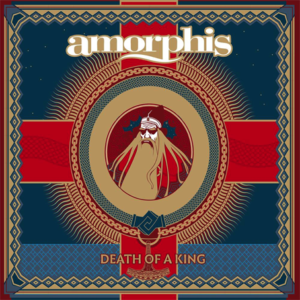 Amorphis will be touring extensively until the end of the year, check out the European tour dates released so far on the official Amorphis website.