For everyone looking forward to the new album of Children of Bodom, the band has just released a lyric video for the title track of "I Worship Chaos", and you can find it below. The ninth studio record of the Finnish metal band will be released worldwide on 2nd of October via Nuclear Blast.
[gdlr_video url="https://www.youtube.com/watch?v=Bhhqmk6Koj4″ ]
Alexi Laiho commented on the new album: [gdlr_quote align="center" ]To me it seems like I Worship Chaos has a lot darker vibe in it than the previous albums and so far everyone has told me that the songs are a lot catchier this time which I'm definitely glad about. To sum it up… It's angry, dark and catchy as fuck. I think it's safe to say I Worship Chaos is COB reborn even more pissed off.[/gdlr_quote]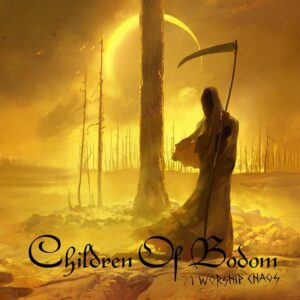 I Worship Chaos track list:
I Hurt
My Bodom (I Am The Only One)
Morrigan
Horns
Prayer For The Afflicted
I Worship Chaos
Hold Your Tongue
Suicide Bomber
All For Nothing
Widdershins
Children of Bodom will start an extensive European tour in October and there are news of an US tour in spring 2016. Some of the bands which will support them during their european shows are Lamb of God and Sylosis, so don't miss them if you're a fan.
Alexi Laiho talks about the tour: [gdlr_quote align="center" ]We're all super psyched to hit the road with Lamb Of God this fall as we have a long history of touring and kicking some serious ass all over the globe with those guys! This is something you might not wanna miss, trust me![/gdlr_quote]