Great news from Ensiferum, the Finnish band has released the official video for the song that gives the name to their sixth studio album, One Man Army. Watch the video below, listen to the brand new track and find out what Ensiferum has in store for their fans:
[gdlr_video url="https://www.youtube.com/watch?v=uv0CRm94ObE" ]
Bassist/vocalist Sammi Hinkka comments: [gdlr_quote align="center" ]The recording process was long, hard, rewarding and full of incredible moments. Instruments were actually played and left as they were instead of creating tracks from hundreds of different takes, moving them to the grid and modifying things. Of course computers were used, but overall we made everything as analog as possible.[/gdlr_quote]
The album "One Man Army" will be released via Metal Blade Records on February 24th, 2015.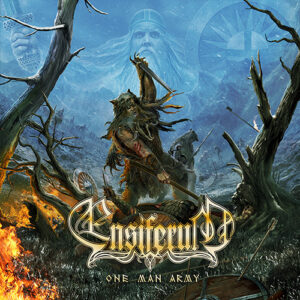 Tracklist:
March Of War
Axe Of Judgment
Heathen Horde
One Man Army
Burden Of The Fallen
Warrior Without A War
Cry For The Earth Bounds
Two Of Spades
My Ancestor's Blood
Descendants, Defiance, Domination
Neito Pohjolan
Rawhide [digipak & vinyl bonus]
Candour And Lies [digipak & vinyl bonus]
Warmetal [digipak & vinyl bonus]
Bonus Song [digipak & vinyl bonus]
Pre-Order the CD from Amazon:
Note: This is an affiliate link. If you buy from it we'll earn a small commission and you will be supporting us and the band.