Gravity Rain is a Russian melodic metal act fronted by siger/composer, Daniel Klaven, which made it's debut in May 2014 with a 3 track EP called "The Shining Silence". Their first release was well received by the metal scene, Soundscape Magazine describing it as: "for a first EP, it's an impressive offering". Their influences include Tool, Devin Townsend, Staind and Type O Negative, an eclectic mix that make their music stand out. You can now listen to "The Shining Silence" EP on Dark Mind Radio!
Since the release of their first EP, Gravity Rain has been working on a full album and now they need the support of their fan base to be able to finish recording their new material. The band has started a crownfunding campaign on 20th of May, on Indiegogo, in hopes of achieving the necessary means to mix, master, print, and then promote it. You can find the campaign here, check it out and see the perks the band offers in return for support of their goal.
Gravity Rain's new album will be called "Artifacts of balance" and includes 10 brand new tracks. You can see its cover art below along with the tracklist.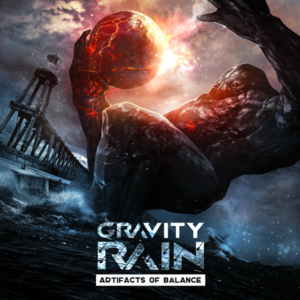 Temple of Haste
Dive
Gist
Join
Ikameshii (Jotun's Rage)
Closer
Let It Hurt
M.A.D.
Chaeon
Sunfire
Danny Klaven says:[gdlr_quote align="center" ](…)the music on this record is balancing between my old musical concept and a new one. I think you can't even call it "metal", as I try to offer the world something new, something fresh-sounding and mainly differently feeling. But like Guthrie Govan says: "Talking about music is like dancing about architecture", so you need to hear it yourself.[/gdlr_quote]
Dark Mind Radio would like to encourage you to participate and donate; support the band to reach their goal, get one of the perks they offer and help the release of "Artifacts of Balance"! Click down in the Indiegogo Campaign to be part of it!