With just days before the release of their album, titled DRACULA "Swing of Death", the norwegians Jorn Lande and Trond Holter are presenting the first official video for the song Walking On Water. Watch it below and don't hesitate to share your opinion with us:
[gdlr_video url="https://www.youtube.com/watch?v=V9Gme_E8ZWk" ]
Jorn Lande – who impersonates Dracula, is the main character of the album and the female parts are sung by Norwegian singer Lena Fløitmoen (representing Mina/Lucy from the Bram Stoker book). The drama of the story reveals Dracula's inner battle, where he still remembers what true love was, and as he wandered the Earth for centuries with a thirst for blood, his loneliness and desire to be able to love again has led him to the brink of insanity.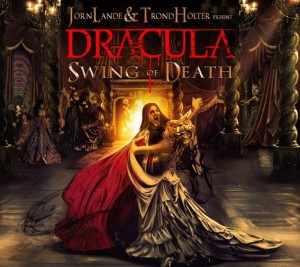 DRACULA "Swing of Death" will be released on January 23rd in Europe and January 27th in North America.
Pre-Order the CD from Amazon:
Note: This is an affiliate link. If you buy from it we'll earn a small commission and you will be supporting us and the band.