The Norwegian rock musicians Jørn Lande and Trond Holter have been working together on a concept album titled DRACULA "Swing Of Death", that will be released by Frontiers Music Srl on January 23rd in Europe and January 27th in North America. Watch the trailer below for a chance to find out what the new songs will sound like:
[gdlr_video url="https://www.youtube.com/watch?v=ZRdtkAHxXgA" ]
This exciting concept album was inspired by the life of Count Vlad III, Prince Of Wallachia, widely known as Vlad The Impaler or by his patronymic name Vlad Dracul. Jørn Lande — who impersonates Dracula — is the main character of the album and the female parts are sung by Norwegian singer Lena Fløitmoen (representing Mina/Lucy from the Bram Stoker book).
Musically, Swing Of Death is not like a typical rock opera or musical, the album includes catchy and melodic songs with commercial radio potential.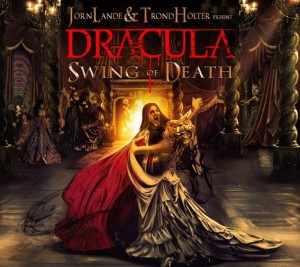 DRACULA Swing Of Death track listing:
01. Hands Of Your God
02. Walking On Water
03. Swing Of Death
04. Masquerade Ball
05. Save Me
06. River Of Tears
07. Queen Of The Dead
08. Into The Dark
09. True Love Through Blood (instrumental)
10. Under The Gun
DRACULA "Swing Of Death" features performances from:
* Jorn Lande: Lead Vocals
* Trond Holter: Guitars, Piano
* Bernt Jansen: Bass
* Per Morten Bergseth: Drums
* Lena Fløitmoen: Lead and Background Vocals on "Save Me"; "River Of Tears", "Into The Dark", "Under The Gun", plus background vocals on "Swing Of Death"