Kiske/Somerville has recently shared their latest official video for a song taken from their next album, "City of Heroes" which will be released on April 17th, 2015 in Europe and April 21st, 2015 in North America via Frontiers Music Srl. You can watch the video of the song "Walk on Water" by streaming it in the video below:
[gdlr_video url="https://www.youtube.com/watch?v=8zOl3kg2lAE" ]
Kiske/Somerville is the musical project of the talented vocalists Michael Kiske (Helloween, Unisonic) and Amanda Somerville (Trillium, Aina) that started in 2009 and has previously released another album called "Kiske/Sommerville" in September, 2010.
The songwriting and producing of the album "City Of Heroes" was done by guitarist Magnus Karlsson in partnership with Mat Sinner (Sinner, Primal Fear), with one song,  "Breaking Neptune" written by Amanda Somerville and Sander Gommans (After Forever).
The complete list of the Kiske/Sommerville band is this:
Michael Kiske – Vocals
Amanda Somerville – Vocals
Mat Sinner – Bass
Magnus Karlsson – Guitar, Keyboards
Veronika Lukesova – Drums
Sander Gommans – Additional Lead Guitar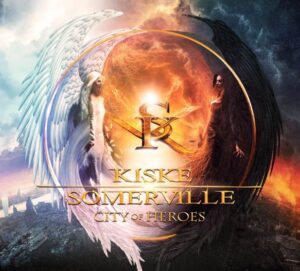 "City Of Heroes" will be released in CD, deluxe edition with a bonus DVD and two-LP vinyl gatefold sleeve.
Here is the tracklist for the album:
City Of Heroes
Walk On Water
Rising Up
Salvation
Lights Out
Breaking Neptune
Ocean Of Tears
Open Your Eyes
Last Goodbye
After The Night Is Over
Run With A Dream
Right Now