The Canadian singer Leah has completed the work on her second studio album named Kings & Queens, which will be released via Inner Wound Recordings next year, on January 30th in Europe and February 3rd in North America and worldwide. This album features musicians such as Timo Somers, Sander Zoer (Delain), and Barend Courbois (Blind Guardian, Vengeance) and is described as "the heaviest of all her releases. Dabbling in worldly Celtic, middle eastern, and New-Age flavors, while lyrically laced with epic imagery of dystopias, fallen empires, spiritual warfare, love and destiny".
You have the chance to listen to the track "Enter The Highlands" here.
The beautiful artwork of Kings & Queens was created by Jan Yrlund at Darkgrove Design (Delain, Apocalyptica, Sirenia) and you can find it below, along with the tracklist of the album.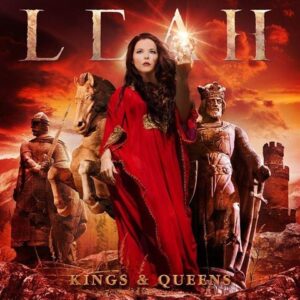 Kings & Queens tracklist:
"Arcadia"
"Save The World"
"Angel Fell"
"Enter The Highlands"
"In The Palm Of Your Hands"
"Alpha et Omega"
"Heart Of Poison"
"Hourglass"
"Palace Of Dreams"
"This Present Darkness"
"The Crown"
"Remnant"
"There Is No Farewell"
"Siúil a Rún" (Acoustic Version)