Leaves' Eyes has been working on a new album this spring and now they are sharing the name, artwork and some other details about it. The band's next studio album is called "King of Kings" and you can see the cover below. On this album they return to the Norse mythology and the Viking Age concepts by telling the story of Harald Hårfagre (c.850-932), who is considered by medieval historians as the first king of Norway, and the battle of Hafrsfjord in which western Norway was for the first time unified under a single monarch.
During their live appearances Leaves' Eyes has been playing a song from their upcoming album, called "Halvdan the Black"; if you listen to it then you had the chance to hear what "King of Kings" will sound like.
"King of Kings" will be released in September 2015 via AFM Records.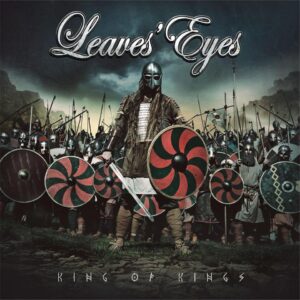 The album's artwork was created by Stefan Heilemann, the famous german artist who designed albums covers for bands like Nightwish, Epica, and Kamelot.
Liv Kristine wrote on the band's Facebook page: [gdlr_quote align="center" ]The seabed in Hafrsfjord hides many secrets and many traces. Moreover, Hafrsfjord is my birthplace. With our upcoming album we would like to take you on a journey through a highly interesting chapter in Scandinavia's history.
Those of you who were present at our latest concerts surely noticed that there's one new song on our setlist, "Halvdan the Black" – one chapter of the upcoming album "King of Kings"! Halvdanr Svarte (c.810-860) was a ninth-century king of Vestfold, Norway. He belonged to the House of Yngling (son of Odin' line) and was the father of Harald Fairhair. "Halvdan the Black" is just the start of an amazing adventure!
This production is one unique soundtrack – a brilliant and impressive auditive experience.[/gdlr_quote]
The album is produced by Alexander Krull at Mastersound Studio and will feature the guest appearance of the London Voices Choir (Lord of the Rings, Star Wars, The Hobbit, Harry Potter).