In one month Leaves' Eyes will release their new album, and today we get the chance to see a new video from them for the song "Halvdan The Black". No, it's not a lyric video. The band has favored a collage of impressions from their live appearances in North America, the Caribbeans, Europe, Latin America, Russia and Asia instead. Check out the video and let us know what you think of it and what are your expectations for the album "King of Kings".
[gdlr_video url="https://www.youtube.com/watch?v=KNqfIxjKFjo" ]
The album was recorded in Germany, Norway, England, Netherlands, Belarus and Switzerland. Outstanding musicians and ensembles have contributed with their guest appearances, like Simone Simons (Epica), Lindy-Fay Hella (Wardruna), White Russian Symphony Orchestra, and the London Voices Choir (Lord of the Rings, Star Wars, The Hobbit, Harry Potter) and .
The fantastic artwork is done by Stefan Heilemann (Lindemann, Nightwish, Epica, Kamelot).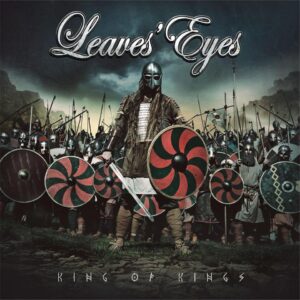 "King of Kings" track list:
Sweven
King of Kings
Halvdan the Black
The Waking Eye
Feast of the Year
Vengeance Venom
Sacred Vow
Edge of Steel (feat. Simone Simons (Epica))
Haraldskvædi
Blazing Waters (feat. Lindy-Fay Hella (Wardruna))
Leaves' Eyes will start touring Europe just days after the release of "King of Kings" and they announced two great support acts: Diabulus In Musica and Melted Space!