One of the albums to look for in 2015 is Extinct by Moonspell, which will be released in March through Napalm Records. The first single from the upcoming album, "The Last Of Us", was first aired on a Portuguese radio station called Ant3na and you can listen to it below.
[gdlr_video url="https://www.youtube.com/watch?v=7QlabIp__44″ ]
Fernando Ribeiro explained on the band's Facebook page: [gdlr_quote align="center" ]Moonspell is very album-minded but we are really excited and amused you get to first listen to one of Extinct songs on the radio! So old school, still no torrent available or…So, we hope you like it and that this song can come home with a win. If not, don't give up, we have nine more lives on the album. Whatever happens, The Last of Us rocks in its darkness. We thought of Draconian Times, of Sisters, of Peter Murphy, of our own dark 1996 gothmetal brand. We thought of great guitar riffs, like The Cult had. We thought about being original but straight to the darkest of hearts. My curse is to love you…enjoy it!
[/gdlr_quote]
Moonspell took the chance to also release the cover artwork of the mediabook for Extinct. The design belongs to Seth Siro and the edition of the mediabook includes two discs: the full album plus bonus songs remixed by Pedro Paixão and a full documentary named "Road to Extinction" which contains not only the making of of the album but as well some scientific context about Extinction.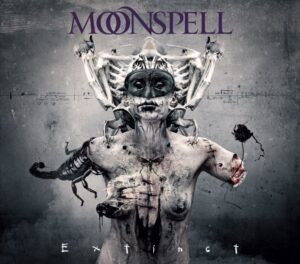 Extinct tracklist:
Until We Are No More (Breathe)
Medusalem
Funeral Bloom
Domina
La Baphomette
The Last Of Us
A Dying Breed
Malignia
Extinct
The Future Is Dark
Extinct will be made available as a mediabook, jewel case, special limited deluxe edition and LP.
Pre-Order the CD from Amazon:
Note: This is an affiliate link. If you buy from it we'll earn a small commission and you will be supporting us and the band.