In the past couple of Synapse shows, lyric videos have been a constant topic to discuss; if you listened to the podcast or the live shows, you probably know our opinions on them and how excited we get every time we find out that yet another band has released one. On the other hand, we had only praises for the cover artwork of the upcoming Paradise Lost studio album and everyone was curious to hear what they will sound like on "The Plague Within". Now we get the first taste of their sound with the opening track, called "No Hope In Sight", with – you guessed it – a lyric video. Watch it below and don't hesitate to share with us your opinions on it!
[gdlr_video url="https://www.youtube.com/watch?v=F7O1z-Vw9Vc" ]
Paradise Lost commented on this song: [gdlr_quote align="center" ] 'No Hope In Sight' was one of the first tracks we wrote and it reflects a blend of styles. From death metal to gothic to classic rock. It's like all eras of Paradise Lost wrapped up into one track. We hope you all like it! [/gdlr_quote]
"The Plague Within" is the fourteenth studio album of the band and it will be released on 2nd of June 2015 worldwide via Century Media. In case you missed the cover artwork, you can check it out below, it was created by the famous Polish artist, illustrator and architect Zbigniew M. Bielak.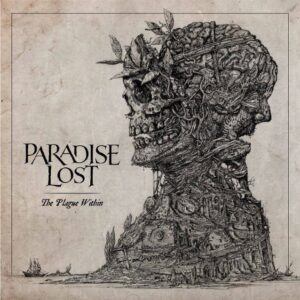 Album tracklist:
No Hope In Sight
Terminal
An Eternity Of Lies
Punishment Through Time
Beneath Broken Earth
Sacrifice The Flame
Victim Of The Past
Flesh From Bone
Cry Out
Return To The Sun
Victim Of The Past [orchestra version]