Anneke van Giersbergen and Arjen Lucassen's project, The Gentle Storm, debuts today the first official lyrics video for a song taken from the much anticipated album "The Diary", set to be released on March 23rd 2015 via Inside Out Music. The song we get to listen is called Endless Sea and it is available in two versions: the heavy (storm) and the acoustic (gentle). Check both versions below and find out what The Gentle Storm sounds like!
[gdlr_video url="https://www.youtube.com/watch?v=iPE3j6Gg_r4″ ]
[gdlr_video url="https://www.youtube.com/watch?v=ml-v1bgMJDQ&" ]
Anneke gives more details about this song: [gdlr_quote align="center" ]'Endless Sea' serves as an introduction to our story-based album 'The Diary'. Susanne, the main character, sings about her husband Joseph, who has just sailed out on another long voyage to the Far East. We are extremely excited to offer everybody a first taste of our forthcoming album with the release of these lyric videos.[/gdlr_quote]
The album concept is a tale of love, loss, and separation told through the story of two fictional seventeenth-century lovers. A Dutch sailor embarks on a two-year voyage, leaving his wife at home in Holland. The only way for the couple to communicate and keep their love alive during the long separation is through letters. These letters form the basis for the songs on the album.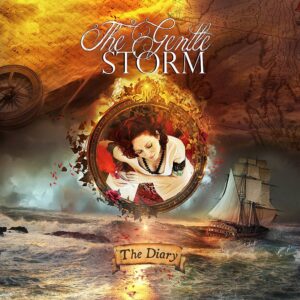 Check out Arjen Lucassen and Anneke van Giersbergen at Amazon:
Arjen: Arjen on Amazon
Anneke: Anneke on Amazon
(Those are affiliate links, DarkMind Radio could get a small commission if you buy from any of them and you will be supporting us and the band)