The Gentle Storm is releasing today its debut album called "The Diary" via InsideOut, and along with it, the second official video. We got to listen to the song "Shores of India", the gentle version, in the past weeks and now we get to hear the storm version and watch the video as well. Check it out below and let us know your opinions through the comment section or on our Facebook page!
[gdlr_video url="https://www.youtube.com/watch?v=nY0Y1AwOyw0″ ]
Arjen Lucassen told TeamRock about the video: [gdlr_quote align="center" ]Shores Of India was the obvious choice for a video because it's the most adventurous and cinematic track on The Diary. I've always been partial to oriental melodies, and I'm especially proud of the epic chorus. Anneke did an amazing job singing this intricate song, both technically and emotionally.
Of course, Anneke and I had a lot of fun dressing up – and I absolutely didn't mind being pampered by those hot belly dancers![/gdlr_quote]
Anneke van Giersbergen talks about the song: [gdlr_quote align="center" ]I immediately loved the mysterious and exotic melodies on 'Shores Of India'. It must have been overwhelming for these sailors to encounter such a different and wonderful culture in the 17th century. We really tried to put ourselves in their position and capture their amazement. There is a big difference in how we approached the vocals on both versions, because musically there is a different intensity between the 'gentle'- and 'storm' interpretation, but the lyrics and emotions remain the same. It has been such a great experience working on that with Arjen.[/gdlr_quote]
If you missed the gentle version of the song "Shores of India" you can listen to it now on Soundcloud.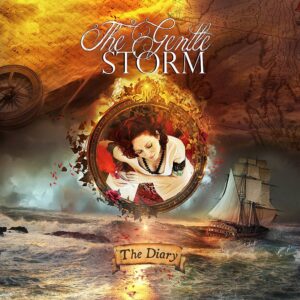 You can get your copy of the album "The Diary" in various formats on this locations: Anneke's webstore, Arjen's webstore, InsideOut Music.