The Sirens is the name of the collaboration project between singers Liv Kristine, Anneke van Giersbergen and Kari Rueslåtten and they have released two songs for streaming as an introduction to what they'll sound like on the stage. The songs are "Sisters Of The Earth" and "Embracing The Seasons".
[gdlr_video url="https://www.youtube.com/watch?v=bJtyPjTHokQ" ]
[gdlr_video url="https://www.youtube.com/watch?v=LtFS1rynXOc" ]
The Sirens tour will be split into two parts, including festival appearances, and staged at the end of 2014 in October and December. It will be a full concert showcasing the trio, one band, and a setlist featuring songs from The 3rd And The Mortal, The Gathering and Theatre Of Tragedy as well as tracks from Kari, Anneke and Liv's respective solo careers. They will sing alone, perform duets, capping off the night with all three of them on stage, with a show that is expected to clock in at around 100 minutes each night.
Anneke says: [gdlr_quote align="center" ] "I'm looking forward to it a lot. Making music with kindred spirits is such a wonderful feeling. I also love harmonizing with more than one singer on stage, so that will be a cool aspect of the show as well."[/gdlr_quote]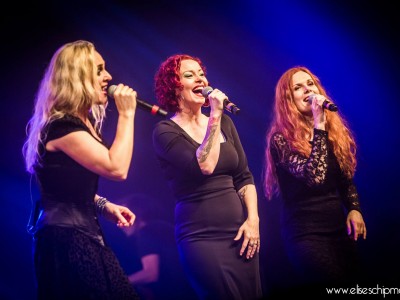 Liv adds: [gdlr_quote align="center" ]"The fans have been waiting for this for years and years. I can't wait to share stage with Kari and Anneke. They are absolutely lovely and we have so much in common. This is a kind of magic."[/gdlr_quote]
Tour dates:
14.10.2014 – GER, Bonn, Harmonie
15.10.2014 – FRA, Colmar, Le Grillen
16.10.2014 – UK, London, The Garage
18.10.2014 – BEL, Wieze, Metal Female Voices Fest
19.10.2014 – NED, Oss, De Groene Engel
06.12.2014 – SUI, Pratteln, Z7
17.12.2014 – NED, Zoetermeer, Boerderij
18.12.2014 – GER, Jena, F-Haus
19.12.2014 – GER, Nagold, Alte Seminarturnhalle
20.12.2014 – FRA, Paris, Divan Du Monde
13.06.2015 – ROM, Bucharest, Metalhead Meeting
More dates will be announced soon!