The american metal band, While Heaven Wept has released the second official lyric video from their upcoming album Suspended At Aphelion. The track they have chosen is "Souls In Permafrost" and you can watch the video below:
[gdlr_video url="https://www.youtube.com/watch?v=TlTVh0ULPbs" ]
Tom Philips, the guitarist and vocalist of the band, comments:
[gdlr_quote align="center" ] Part 7 of Suspended At Aphelion is one of my favorite parts and epitomizes the madness of the album – this is what I've meant about music moving in every direction and intense counterpoint – with the angular guitar lines, Jim's serpentine bassline, the gothic choir chants all juxtaposed beneath Rain's lead vocal, this 'rough edit' of 'Permafrost' is about as complex as it gets without being overtly technical/self-aggrandizing…plus it provides a 'sneak peak' into what is to come with Part 8 as well![/gdlr_quote]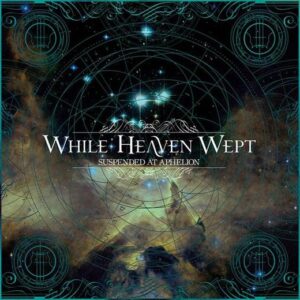 Tracklist:
01. Introspectus
02. Icarus And I
03. Ardor
04. Heartburst
05. Indifference Turned Paralysis
06. The Memory Of Bleeding
07. Souls In Permafrost
08. Searching The Stars
09. Reminiscence Of Strangers
10. Lifelines Lost
11. Retrospectus
Suspended At Aphelion features a single track divided into 11 parts. It will be released by Nuclear Blast on October 24th (Europe) and October 27th (USA).